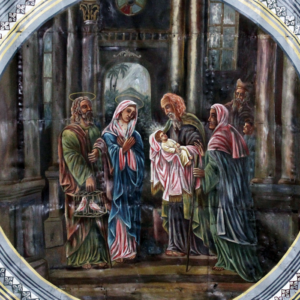 As the Holy Spouses fulfill all the prescriptions of the Law of the Lord in offering the pure child in the temple, they rejoice at Simeon's prophecy of light for the nations and they grieve at the thought of the sword of rejection.
Marvel with the Holy Spouses at the Light of the Nations come to us as a small baby. He is the purest offering come from God and they unreservedly present him back to God. Consider how at the presentation of the gifts of bread and wine at every Eucharist we are to unite the offering of ourselves to Christ's self-oblation to the Father.
Mary, full of grace, and Joseph, son of David; honor to you, Mother of God, and to you, guardian of the Redeemer. Eternal praise to the child with whom you formed a family, Jesus Light of the Nations.
Holy Spouses, …