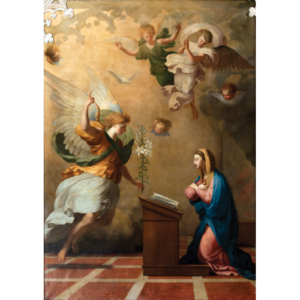 God chooses the virgin Mary, betrothed to Joseph of the house of David, for the miracle of his coming in human flesh. The Son of God becomes dependant on acceptance by a human mother, and thereupon takes the nature of a tiny zygote in her womb.
Reflect upon Mary's humble heart filled with wonder at the appearance of the angel Gabriel choosing her for the greatest of all human missions. Admire the unreserved availability expressed in her fiat, "let it be done to me." With Mary exult in the greatness of God's love poured out for you through his Son come to be in her womb.
Mary, full of grace, and Joseph, son of David; honor to you, Mother of God, and to you, guardian of the Redeemer. Eternal praise to the child with whom you formed a family, Jesus Incarnate.
Holy Spouses, …