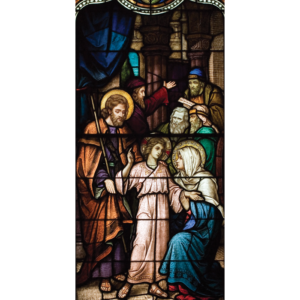 At the age of twelve Jesus stays behind in the temple, amazing the teachers by his understanding. His parents, Joseph and Mary, first are anguished at his being lost and then are confronted with the mystery of Jesus' reference to the temple as his "Father's house."
With the Holy Spouses stand in amazement at the twelve-year-old Jesus as he manifests divine wisdom while conversing with the religious teachers. Contemplate the mystery of the same Son of God present still in our Church, his Father's house, teaching us all Truth.
Mary, full of grace, and Joseph, son of David; honor to you, Mother of God, and to you, guardian of the Redeemer. Eternal praise to the child with whom you formed a family, Jesus Son of God.
Holy Spouses, …